Steve Garson
707 439-5323

me@
stevegarson.com
To Main Photo Page:
www.garsondesign/
photos
GDS Sales Guy Gets Some Ink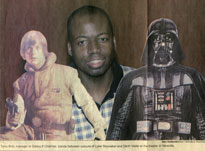 See the full article.
1st page
.
2nd Page
Seeing The Sacramento Kings Play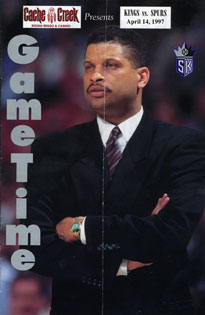 Dee Dee and I (Steve Garson) go to Arco Arena, Sacramento, to see the Kings play against the San Antonio Spurs. Mitch Richmond was there top player at the time. I think the Kings won(?)
012408

01/10/97


MacWorld show - attended?



01/12/97


To Mission San Antonio De Padua with Dee Dee and Stephanie ?



01/30/97

Terry Britt, friend and part-time sales guy at GDS, makes some Star Wars news at his "real job" at Galaxy 8 Theater.

02/28 - 03/02/97
To Fresno to visit Aunt Jeri


03/05/97 - 3pm Wed.


Take Ming Tao to the vet to put him down - adios amigo, you were the best! 1/28/81 - 3/5/97 Age: 16 yrs 1 month. Received remains back the next week/Thurs in cedar box.



03/19/97

Dee Dee and Steve 3rd anniversary : )


03/23/97


To Tilden Park with Roger and Tara



04/14/97

Arco Stadium, Sacramento
Dee Dee and Steve to see B-Ball, Kings - vs - Spurs

04/24/97

Field trip to old Sacramento with Steph and Dee Dee.
05/18/97

A's
05/21/97

Chamber open house - 50th Anniversay 4 - 8pm

05/26/97

ZZ Top concert
06/28/97

Bz Expo at the Mall. Meet Archibald.

07/2 - 8/97
Vacation - New Mexico.

07/26/97
Dee Dee & Steve to Roger and Tara Madison. Shelly, Bambi and Mia there. Mia said "you smell" ...Dee Dee had nice perfume.

08/1/97
GDS 5th Anniversary.

08/9/97
Dee Dee & Steve to Jack London Square - to Yoshi's, ate at Old Spaghetti Factory, Downtown Oakland - art deco buildings.

08/11/97
Dee Dee, Steph & Steve to Twin Sisters at 2 am to watch meteor showers - saw about 30!

08/29/97
Dee Dee, Steve to Grizzly Brewery - dancing. Fireworks in Suisun - last day of Farmers market.

08/31/97
Dee Dee, Steph, Steve, Kyle & Ryker to Rockville Park to feed the ducks - we have names for all of them.

09/05/97 - Fri.
Dee Dee, Steph & Steve to Rush Ranch - star gazing.

09/13/97 - Sat.
Ranger hike at Rockville Park.

09/26/97 - Sun.
Camellia Koi Club - UC Davis fish lab tour. Dee Dee, Steph & Steve.

11/02/97
Dee Dee, Steve to Trinity Baptist Church - our client Linda Rice on harp.

11/25/97
Dee Dee, Steve to Rice's for dinner.

11/30/97
Dee Dee, Steve to Paramount Theatre, Oakland for Sarah M. concert.

12/12 - 14/97
Dee Dee, Steve, Steph to SeaScape. About a 3 - 1/2 hours drive.





News of the Year


02/04/1997 Steve Jobs returns to Apple (Apple bought Steve Job's company NeXT for it's operating system) and begins to engineer a turnaround for the sagging company he established on 04/01/1976 (incorporated 01/03/1977). 07/09/1997 Under performing Apple CEO Gil Amelio is ousted and replaced by Steve Jobs. He takes only $1 in salary but holds stock now worth close to a billion dollars. 012408

U