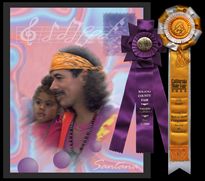 Other GDS Illustration Work!
Back to Awards main page
For Immediate Release
August 04, 2000
Contact: Steve Garson
707 428-1743 mail@garsondesign.com

Artist At Garson Design Services Receives County/State Fair Awards Steve Garson, owner of Garson Design Services, a Fairfield graphic design studio, received Best of Show at the Solano County Fair for a digital illustration of Carlos Santana and his daughter Angelica.

The piece went on to the California State Fair where it received 5th Place in a field of 550 entries. The illustration took about 27 hours of careful digital drawing. Steve used, as a guide, a 35mm slide of Carlos and his daughter taken at a concert he was giving in Tiajauna, Mexico some years back.

A digital print was framed and presented to Carlos and his wife Debbie on his 50th birthday (born:07.20.1947) Steve received back another printout, signed by Carlos with a letter saying that it was "hanging where he could see it often and that it brought a smile to his face" whenever he did.

The work is now on display at the California State Fair from August 18, 2000 to September 9, 2000.
U