Please peruse through our many Service options and call GDS with any questions you might have.
Cost-estimates are free of charge!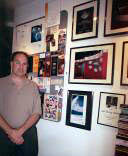 Owner, Steve Garson
next to "the wall portfolio"
Click for larger view

GDS is a full-service graphic design studio that has been in business since 1992. We can provide you with everything from the initial concept to final printed piece. You are welcome to call us with any questions you may have or about your projects.



GDS Promotional Brochure!
This 7 page downloadable pdf brochure has color photos of our workand will introduce you to our wide range of capabilities. Pass it along to your associates and/or printout.
Download GDS Brochure PDF (371k) 120702




New Business

Do you Market your Business or Advertise?

That's a fairly general question so the quick answer is "If you don't advertise you don't exist". In any day of age, and especially the current one, my belief is the more spread out your business name is the better. You never know how your next customer may find you.

It's more about choosing what are the best marketing venues for your type of business. Best way to find out is – what marketing avenues are your successful competition using? Ads (newspaper, trade publications, radio, tv or cable), direct mail, a professional stationary / corporate ID and leave behind package are all important.

At a very increasing rate a strong web presence is critical. I would say half our business is coming in from simple google searches. We cut our yellow page advertising (due to diminishing effectiveness) budget and shifted it over to the web. Your type of business may vary - that's where your research needs to come in. Make a list of your advertising / marketing budget and track the results.

If you are a bare bones startup, do as much as you can yourself and hire the experts for the critical things that if done amateurishly could hurt your image if not done professionally. IE: Website design, logo design, ad layout. Have a trusted and experienced source that will tell you point blank at what professional level your image is at. Join local business groups such as Chamber of Commerce - go to their bz expos, mixers, etc.

As you increase your marketing / advertising budget (and you should!) add additional professional services such as a marketing specialist, additional graphic / web design work etc.

Hope that helps to some degree. Hanging out your shingle and promoting your business has been done since the ancient times. Promoting your business has always been a necessity – it just has become more complex with the growing marketing avenues... and more critical within a crowded market. It can also be fun to do as long as it's effective. Best of luck in your business future!

Steve Garson, Owner, Garson Design Services

As seen on Merchant Circle 010710



U