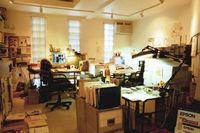 The inner sanctum of creative enlightenment... ok, really - this is where our noses hit the grindstones.
GDS provides clients with full creative and graphic design support including brochures, advertising, logos, illustration, slides and business graphics, etc. Please see Our Services tab on left for complete listing.

With an in-house computerized setup including high-end Mac & PC computers, color scanners and high-res printers, GDS is able to provide clients work from concept to final printing.

Support personnel provide years of experience to help you with your projects big or small.


fff