Back to Awards main page

For Immediate Release
November 21, 2002
Contact: Steve Garson
• 707 428-1743
• mail@garsondesign.com

Chamber of Commerce Honors Small Businesses.

Good Morning Fairfield/Suisun Breakfast - Thurs., November 21, 2002. The Emcee, Steve Epps, reported the following:

Born and raised in/and family information:
Born in Minneapolis, Minnesota 1956, Steve Garson lived there until 1965. Moved to Kensington, California (near Berkeley). My father is from South Dakota, met my mother Margaret in Stuttgart, Germany as a Captain in the Army right after World War II. Back in the U.S. he was head of the construction company, Peter Kiewit Sons, that built the Antioch bridge, BART tube under the bay, among other projects. Been with girlfriend, Dorothey, an accomplished oil painter, since 1992.

Schools attended:
• Electronics School for Cobra helicopters while in the Army.
• BFA Academy Art College 1985
• BFA University of San Francisco 1985

Pet Peeve: Complainers.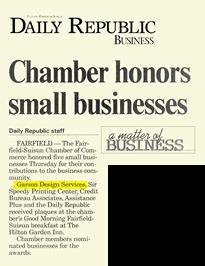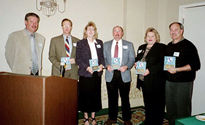 Left to Right: Steve Epps, Foy McNaughton, Denise Whiteaker, Mark Hostler, Cathy Parsons, Steve Garson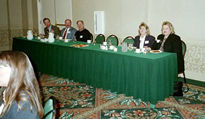 • Download Press Release PDF (50k)
• Download Press Release For PRINT PDF (704k)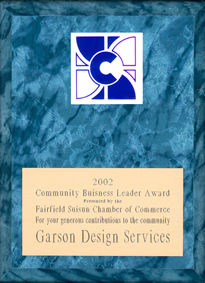 This beautiful award was given to owner, Steve Garson

Business and /or businesses involved in, other than your current business:
• Fairfield Visual Arts Association
• Art Directors and Artists Club of Sacramento
• Camelia Koi Club (Koi fish...as in those fancy colored fish in home ponds)

Current business start up date and why you think you have been successful:
I worked at Ad Agency businesses throughout the Bay Area since 1979 picking up valuable experience. I started Garson Design Services in August of 1992 after having enough of a daily commute to an Ad Agency in Sausalito. I took the big leap out of the corporate world and into self employment. We just celebrated our 10th year anniversary. A lot of our success is due to hiring young local men and woman and teaching them valuable work and creative skills.. Our studio provides big city graphic design experience at small town pricing. We provide a variety of creative services such as advertising, brochures, logos, illustration, slides, websites and much much more.

Have donated time, money, services to:
• Fairfield Downtown Association
• Fairfield Visual Arts Association
• Gomer School Historical Association
• Student mentoring for Fairfield High School
• Fairfield-Suisun Chamber of Commerce


U