For Immediate Release
August 01, 2002
Contact: Steve Garson
• 707 428-1743 • mail@garsondesign.com

Professional Work at Economical Pricing Pays Off
• Download Press Release PDF(156k)
• Download PR print vers. PDF(920k)
• Article in the Daily Republic
..August 02, 2002

The award winning graphic design studio of Garson Design Services (GDS) has reached the 10th year in business in Solano County since opening in August 1, 1992. "I started with about 80% of the business from the bay area. Now that has reversed as more businesses have been established in Solano County. We are small compared to graphic design studios in San Francisco but probably the largest in this county. Our motto from the beginning has been to provide "big city" experience an d professionalism at small town pricing."

Owner, Steve Garson had over 15 years of previous experience in the graphic design field, serving as an Art Director for various Ad Agencies in the Bay Area including Austin Knight Advertising in Sausalito where he supervised a 15 person art studio, transitioned the shop from traditional to computerized setup, and provided creative for the $20mil/yr billings ad agency. Steve also worked for other ad agencies to include: Bernard Hodes Advertising (BHA) in Palo Alto and Bernard Schank Advertising (BSA) in Mountain View.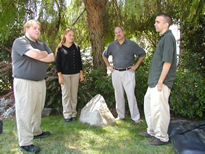 072902
David Benson - Graphic Designer
Erin Rosa - Office Administrator
Steve Garson - Owner - Graphic Designer
Dan Fein - Graphic Designer/Photogrpher
___________________________________

"I had originally opened a freelance business in San Francisco in 1983 but I wasn't experienced enough. I knew how to design well, but not how to run a business. So luckily my largest client (BSA) hired me before I got in too much trouble. In the different companies that I worked at I went beyond my role as Art Director to work closely with the sales and accounting staff. The extra experience I gained helped tremendously when I opened my own business. As any small business owner knows you have to wear a lot of different hats and if you are weak in one area then your business suffers. I also would much rather have a small business now to be closer to actual designing. The larger agencies I worked at....the natural growth was into management and away from hands-on design.

"Now I have a terrific crew that I have trained to work in a graphic design studio and we continue to upgrade our skills as technology and styles change. We intend to serve clients in giving them the best possible product and our future appears bright with the sales and marketing help of the Lessler Group. We will continue to provide clients work from concept to final printing for their promotional needs." For more information about Garson Design see their website at www.garsondesign.com
U