For Immediate Release
January 22, 1998 1:00am
Contact: Steve Garson
• 707 439-5323 • mail@garsondesign.com

GDS creates art deco logo for Vacaville cafe.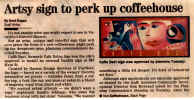 See a larger view.
Article on the Caffe Baci signage in the Vacaville Reporter.
It's uniqueness
allowed the signage to pass by normally restrictive downtown regulations on illuminated signage.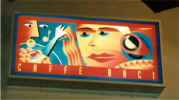 Signage above the Restaurant.
See a larger view.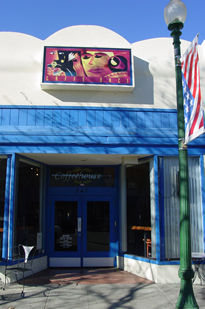 Article in Vacaville Reporter:


Artsy sign to perk up coffeehouse
Caffe Baci sign was approved by planners Tuesday.

By Kerri Regan/Staff Writer
Vacaville Reporter (newspaper) VACAVILLE, CA

It's not exactly what one might expect to see in Vacaville's historic district.

But an artsy, unique and colorful sign that will soon grace the front of a new coffeehouse might perk up the downtown area, planning commissioners decided Tuesday.

Caffe Baci, formerly Cafe Dolce, has won the city's approval to install an unusual backlit sign at 547 Main St.

Created by Garson Design Services of Fairfield, the logo - based on a variety of the owners' favorite retroactive art pieces - includes faces, food, a coffee cup, a fork, the sun and musical notes in a blend of magenta, royal blue, black and white.

''We wanted actual artwork - we didn't want a logo," explained Sandra Addiego, who owns the business along with her sister, Susanna. ''We wanted something a little bit deeper. It's kind of industrial art deco.''

Although sign applications are typically approved or denied by city staff, Assistant Community Development Director Ron Rowland asked for the Planning Commission's blessing on Tuesday, since the sign is so different from anything else in the historic downtown area.

"We find it would add some interest to the downtown, but we want you to feel reasonably comfortable with it," Rowland explained to commissioners.

The sign, which measures 22 square feet, was on the ''borderline" of the city's guidelines, Rowland said.

''I'm not aware of anything in Fairfield or Vacaville that approaches this uniqueness," said Steve Dunn of Solano Signs, which is turning the drawing into a sign.

"Sometimes different is good," said Commissioner Shari Lawson.

Commissioner Jan Aldrich said she loved the sign, but wondered if it strayed too far from downtown's historic ambience.

''I'm not sure it's going to fit in with the decor we're trying to achieve," she said.

But Chairman Don Risso said, ''I think it would perk up downtown.

'' Not only does the sign draw attention to the building, but "it also approaches art," Commissioner Steve Williams said. "It adds excitement.''

Concluded Commissioner Tom Turpen, "I vote that it's hip and acceptable.

'' Caffe Baci opened Jan. 2 and serves soups, salads, sandwiches, desserts and appetizers in addition to gourmet coffee drinks. The owners purchase their organic java from Thanksgiving Coffee of Fort Bragg, Addiego said.
U