Advertising is described as all types of bought media, not to be confused with collateral such as brochures, postcards, etc.
Following are ad - bought media - examples:
• Ads
• • Magazine
• • Trade
• • Newsletter
• • Newspaper
• • Web Banners
• • Yellow Pages
• Radio
• Skywriting
• TV - Commercials
• Web
• • Banner
• • Email
Please click on the active Advertising links above for more info and portfolio samples.

Following are samples of our marketing web banners:




300px x 40px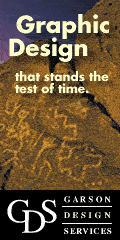 120px x 240px

Advertising News

• San Francisco dunks "Got Milk" ad campaign
DR 12/07/06 Thursday

THE ASSOCIATED PRESS
SAN FRANCISCO — A
marketing campaign to promote
milk by outfitting city
bus shelters with cookiescented
strips has crumbled.
City officials ordered CBS
Outdoor, the company that
holds the advertising contract
for its bus shelters, to remove
the adhesive strips Tuesday,
just one day after they were
put up as part of the California
Milk Processor Board's "Got
Milk?" campaign.
The Municipal Transportation
Agency initially had no
objection to the promotion –
the U.S. debut of scented outdoor
advertising – but canceled
the plan after some residents
raised objections.
"We got complaints," said
MTA spokeswoman Maggie
Lynch. "It is controversial."
Some expressed concern
over potential allergic reactions
to the scents. Others
complained the ads could be
offensive to the poor and
homeless who can't afford to
buy sweet treats.
Scented oils were sandwiched
between cardboard
cards emblazoned with "Got
Milk?" and affixed to shelter
walls, in hopes that the smell
of just-out-of-the-oven chocolate
chip cookies would spark
cravings for milk.
The promotion was
launched Monday at five San
Francisco bus shelters at a
cost of about $30 per each
shelter.
Representatives from the
California Milk Processor
Board were not immediately
available for comment about
the removal of the delicious
posters.


U