GDS Offers Professional Billboard Design and Production
We provide outdoor advertising products uniquely tailored to meet the needs of today's aggressive advertising industry.
Not only do we provide the displays to meet the increasing demand for the world's oldest form of advertising, but we also provide unmatched industry experience and customer service. Reaching consumers is what we do best. We are pleased to show you how we can reach your target audience with a proposal.
The creative impact of our medium generates the awareness you need in today's fragmented media marketplace. Our recommendation provides a unique opportunity to help your advertising message break through the clutter in an effective way.
Call us with your outdoor/billboard needs!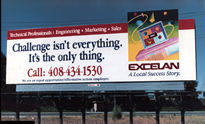 Client: Excelan
Location: Highway 237, Santa Clara, CA
Job: Excelan (AK)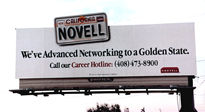 Client: Novell
Location: Highway 237, Santa Clara, CA
Job: Novell (AK)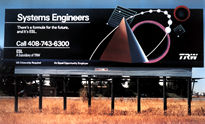 Client: TRW - ESL
Location: Highway 237, Santa Clara, CA
Job: TRW - ESL (AK)


U