Also see Postcards
If you want to expand beyond the typical direct mail postcard but want to retain the same immediacy - a comprehensive brochure self-mailer is the way to go.

The additional real estate provides expanded text and photo area to sell your product or services and add a tear-off reply card.

Additionally a digital version (pdf) of the same print piece can be posted onto your website an result in an automatic email and snail mail list builder. Ask GDS for more info.

Additional Sources:
Mailing Lists
• Assistance Plus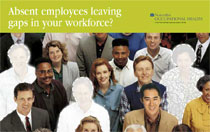 Cover Larger View

Client: North Bay Occupational Health
Job: 4721NBH
Specs: 4 color process 2 sides with a matte varnish.

Outside

Inside
Job Scope
The client explained that their target market for occupational helath services - owners of larger companies - wanted to get ill employees back to work as soon as possible. The answer was North Bay Health who provides superior, comprehensive and preventitive health services. That was the seed idea for the creative.

Solution
Provide an effective direct mail piece to all major business owners in Solano County. A die cut roladex contact card and reply promo gift (for returned reply cards) were also added.

Results
Mailing resulted with increased business leads and sells under increasing local market competition.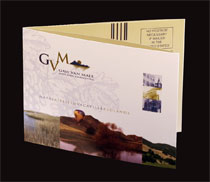 Larger View • Largest View
Client: Gaw Van Male
Job: 4723GVM-Brch2 082206
Specs: 4 color process 2 sides with a matte varnish.
Testimonials:
• Click for Client Testimonial
• Click for Printer Testimonial
• GDS also created GVM's website


Job Scope
This piece had a big task, kick off the promotion of the company's new image and expanded services. GDS designed: ads, corporate ID, logo, business cards, stationary, brochures, presentation folder, and website.

Solution
Create direct mail piece to be sent via clients existing and purchased mailing list. Accordian folded piece was sent in an envelope. Response from client to GDS, Dean Kackley: "I appreciate all your diligence and responsiveness, not to mention talent.'

Results
Results were that GVM (offices in Napa, Fairfield and Vacaville) was being put on the map as a local multi-office law firm with comprehensive and professional services normally only found in San Francisco or Sacramento.