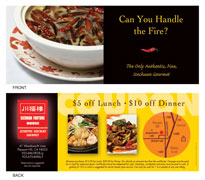 Client: Sichuan Fortune House
Job: 4930.09Sichuan-Coupon
Notes: This discount coupon was for a authentic Sichuan style restaurant with gourmet unique dishes. Photography showed the quality and location map made it handy to get there.


---
The Coupon's Humble Beginning
Coupons have been saving consumers money for over 100 years. Each year, manufacturers and retailers distribute over $267 billion worth of coupons! About 75% of American consumers use coupons when they shop. So where did coupons come from, and where are they going?

History

1894 Coupons are born! Asa Candler, the druggist who bought the formula for Coca-Cola for $2,300, gives out handwritten tickets for a free glass of his new fountain drink.
1897 Next stop, the local grocer! C.W. Post distributes the first grocery coupon worth one cent towards his new health cereal, Grape Nuts.
1930's Coupons are a staple in American households because of the Depression. Everyone needs to save money wherever possible, and clipping coupons clips weekly grocery bills. A Coca-Cola coupon from the Depression

1940's Supermarkets sprout across the country and continue the coupon tradition that had begun in neighborhood groceries.
1957 The Nielsen Coupon Clearing House becomes the first clearinghouse devoted to coupon redemption. Coupons have created a new industry.
1965 One-half of Americans are now coupon users.
1972 Valassis revolutionizes the coupon industry by introducing the Co-op Free Standing Insert (FSI). By 2003, it will account for 87% of coupon distribution. Early FSI coupons

1975 Coupon popularity continues to grow. Over 35 billion coupons are distributed and 65% of American households clip!
2002 Nearly 350 billion coupons are distributed, ten times the number of a generation ago. Shoppers save $3 billion dollars by redeeming 3.8 billion coupons.
2009 77% of consumers report using coupons, making it one of the most popular shopping activities in America.

_________________________

Sources

en.wikipedia.org/wiki/Coupon