Back to Awards main page
GDS Wins National Graphic Design Awards

Logo design by Garson Design Services for Shelby French, Owner of Feather My Nest.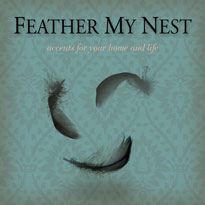 Larger view
CASE STUDY

Need
Shelby French, an Interior Designer, needed a logo for her business and boutique shop of eclectic "accents for your home and life".

Solution

GDS needed to reflect the style of her collection and taste with an unique logo. Black feathers, brocade background pattern and an unique color palette of rich oranges, browns and blues that were eventually used on business cards also.

Awarding Organization: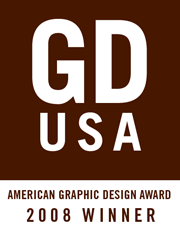 www.gdusa.com

Other GDS awards from same 2008 competition:

• Feather My Nest
• Paradise Valley Estates
• Solano County Bar Association

• Click here for Press Release
• Click

here

for viewer response
• Click here for Press Coverage

Design Firm: Garson Design Services, Fairfield CA
Client: Feather My Nest - Shelby French
Title: Feather My Nest Logo
Art Director: Steve Garson
Designer: Steve Garson

The Award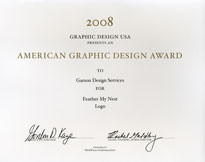 Larger View

Winners receive an embossed Certificate of Excellence and become eligible for reproduction in the Graphic Design USA's Awards Annual, seen by over 100,000 colleagues and clients each year. The 2008 Design Annual, with the winning entries, will come out January 2009.



Award Letter
..

Award Annual
Cover
..



Publishers Intro




Judges 1




Judges 2


Judges 3

Responses!
Very nice. Congratulations Steve and team.
Steve Lessler
www.lesslergroup.com
Congratulations, Steve ! Great to hear from you and that you are being so successful !
Margo McGlone
Good Work!!!!
Terry Keenan
Leon's BBQ Sauce
www.leonsbarbq.com
Steve
Congratulations for the recognition of your fine work.
Hal Carter
Editor of Elysian Fields
CONGRATULATIONS! Well deserved!
Emily Low
Main Street Program Coordinator
City of Fairfield,
Fairfield Downtown Association
Congratulations, Steve!!!
Susan Stutz
Colleague from my Academy of Art University days.
Way to go Steve! Congratulations. Nancy
Nancy Hopkins
Marketing & Public Relations
Congratulations! Very impressive.
Martha Christopher
The Christopher Group
836B Southampton Road, #275
Benicia, CA 94510
(707) 746-8444
Steve,
This is great. Congratulations.
Lorli and Derwood
Lorli is my Dad's sister,

Congratulations that's great!
Cathi Jasso
www.paccalrealty.com
Steve, Congratulations on your National Awards! Terrific! I, naturally, am especially please that PVE continues to win
their share of these awards.
And, I agree. Your work for PVE is excellent
Regards, Bill Stoneberg
Paradise Valley Resident
www.pvestates.com
Congratulations Steve!
Sandi Hudson
www.hudsonbusiness.net
U