Back to Awards main page

GDS Wins National Graphic Design Awards

2008 Holiday Card design by Garson Design Services.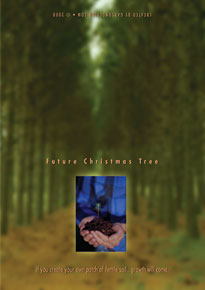 Larger Front view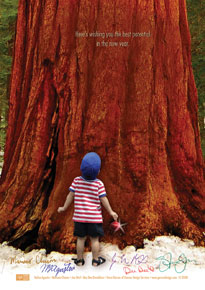 Larger Inside View


CASE STUDY

Need
Previous holiday cards have been our chance to have a little fun in the Christmas spirit, but this down economy time required something a bit more direct (with still some "tounge-in-cheek").

Solution
When times are down, sometimes your best friends are"hope" and "perverance". We all remember what it was like to start a business or a new job - so the 2 words above are fitting. Taking that seedling of a new growth and nurturing it into something beyond your expectations. Now how does one get that Christmas ornament up on that big tree of potential?

GDS2008XmasCrd


Awarding Organization: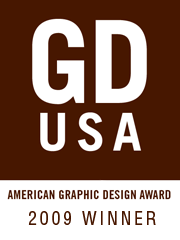 www.gdusa.com

Other GDS awards from same 2009 competition:

• Fit-Tech
• 2008 GDS Holiday Card
• Santa Cruz Pizza Company

• Click here for Press Release

1.9mb 041810



Design Firm: Garson Design Services, Fairfield CA
Client: Garson Design Services
Title: Future Christmas Tree
Art Director: Steve Garson
Designer: Steve Garson

The Award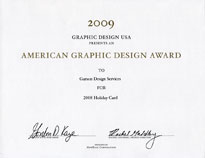 Larger View

Winners receive an embossed Certificate of Excellence and become eligible for reproduction in the Graphic Design USA's Awards Annual, seen by over 100,000 colleagues and clients each year. The 2009 Design Annual, with the winning entries, will come out January 2010.



Responses!
Fairfield-Suisun Chamber of Commerce
PDF Link 042310

"Very nice. Congratulations Steve and team."
Steve Lessler
Former Fairfield City Councilman and now owner of:
www.lesslergroup.com

"Steve, Congratulations sir!"
Dan Fein
Dan is one of our esteemed GDS Alumni

"Hey Garson, Dee Dee and crew! Way to go!!"
Susan Stutz
Colleague from my Academy of Art University days and Design Instructor at Portland State University

"Hey Steve, Wonderful News! Wonderful Work! Well deserved! Congratulations to you and your obviously talented team!"
Best, Joe Rigo
Joe is back from my Ad Agency days - Joe was our go-to guy in our Austin Knight Advertising US HQ in NYC.

"Congratulations Steve & the GDS crew! Glad to see you going strong! Keep it up!"
David Benson
iPhone Message. David is one of our esteemed
GDS Alumni

"Congratulations, Steve. Great news....thanks for sharing with me. Keep up the great work. Peace and blessings."
Mark E. Lampkin
CEO, M.E. Lampkin Media Services
www.melmedia.net

"Congratulations, Steve and 'hope you're well"
Randy Mon
www.randymon.com
Randy is an incredible Food Stylist - we worked on a photoshoot with Photographer Chriss Poulsen for Engelhart Gourmet Foods We created their website also.

"Steve, Congratulations. Well Done." Regards,
Nigel Hartley
Accredited Associate of the
Institute for Independent Business
CMT - Senior Mentor • CBC - Certified Behaviors Coach
• OED - Certified Careers Coach. My former esteemed boss at Austin Knight Advertising in Sausalito

"Congrats, Steve!!!"
Bud Ross
Past President of the Fairfield-Suisun Chamber of Commerce

"Congratulations on the awards. I think we could do some work together. We are a print shop that speacializes in foil stamping and embossing. We can handle any project with our 30 years in the business. Please check out our website and feel free to contact us if you have any questions about our services."
Thanks, Derek
Ace Embossing
525 Sinclair Frontage Road
Milpitas, CA 95035
Tel: 408.262.2585
www.aceembossing.com

"Congrats! Not surprised!"
Steve Dunn
Owner Solano Signs
Sent from my Verizon Wireless BlackBerry. Together we created an iconic logo /signage in downtown Vacaville.

"Congratulations Steve! We will get this new in the VOICE ! Next month- this months deadline has past – so watch!"
G. Leslie Fay, IOM
President/CEO
Fairfield-Suisun Chamber of Commerce
1111 Webster St.
Fairfield, California 94533
leslie@ffsc-chamber.com

Congratulations!
Tumikia Watu-Khuthaza
www.twkdesigns.com

"Congratulations on your national award! Know how hard you all work. Hope to see you soon...it has been a crazy 2010 for us. Thanks for sending the good news." Love, Sharon and Lee Mack
Lee is the brother of my better half - Dee Dee

"Wow Garson! Great work! Congratulations on the awards."
Jim Stoch
Former colleague at Austin Knight Advertising in Sausalito.

"Hi Steve and all at Garson Design, Congratulations on your recent awards. You deserve it."
All the Best,
Nancy Burns
turningoveranewbelief.com
We created her website and logo.

"Hi Steven, Congratulation!!!!!!! The logo is very good. Keep up the good work.
I have company from Japan now. My grand niece came here and will stay till next month. I can tell her the good news of your achievement. Her father is a play-writer for motion pictures and he is very famous also. Tell DD hello for me." Good job, Steven, Miyo Eakins
Miyo is my Dad's brothers wife.




U