Back to Awards main page

GDS Wins National Graphic Design Awards

Corporate Branding for Quail Creek at Paradise Valley Estates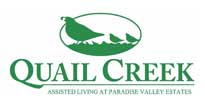 Larger view
Winning Logo design for Quail Creek at Paradise Valley Estates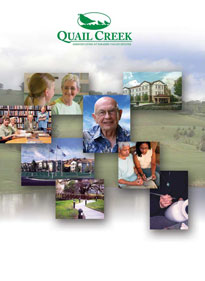 Winning Presentation Folder design for Quail Creek at Paradise Valley Estates
1 - Folder Outside Spread Inside
2 - Stapled In Brochure


....

Outside Spread Inside

3 - Inserts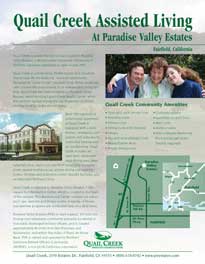 Larger view

Winning Flyer / PR Sheet design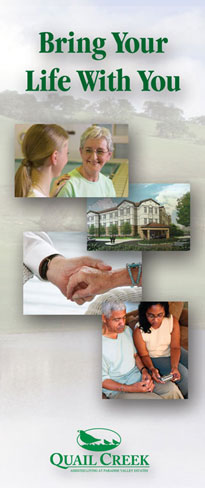 Winning Brochure design
Outside Spread Inside
Direct mail with perforated tear-off reply card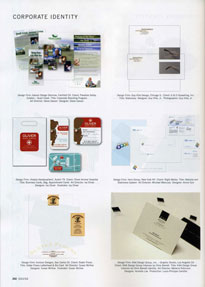 Winning entry Quail Creek award page in 2007 GDUSA Design Annual.
• www.pvestates.com
Website GDS also designed the corporate companies website
4753PVE
Awarding Organization: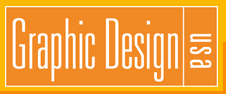 www.gdusa.com
Other GDS awards from same 2007 competition:
• Gaw Van Male Advertising
• Quail Creek Corporate ID
• Renovo Communities - Sidonia and Manzanita developments
• TLW Public Relations
---
The Award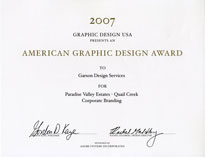 Larger View

Design Firm: Garson Design Services, Fairfield CA
Client: Paradise Valley Estates - Patti Luccioni and Sharon Dominick
Title: Quail Creek Corporate Branding
Art Director: Steve Garson
Designer: Steve Garson

Winners receive an embossed Certificate of Excellence and become eligible for reproduction in the Graphic Design USA's Awards Annual, seen by over 100,000 colleagues and clients each year. The 2007 Design Annual, with the winning entries, will come out January 2008.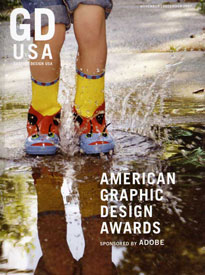 Larger view
Cover for the 2007 Design Annual with 5 of our awards

CASE STUDY

Need
Client was in the process building a new assisted living facility to complement and round out their high end retirement community for military officers and their spouses. They needed a new logo design and a spread of marketing pieces to start recognition of the new facilty and to solicite occupants to the 40 one-bedroom apartments.

Solution
We initially created the logo design. It needed to be different enough but still fit the corporate PVE logo. (See their website we created for PVE logo view). In this upper part of Fairfield, quail are common visitors and became an appropriate icon. The logo had to also clear the residents board's approval - no small task.

Next came the print materials. Photography was going to be a critical part so we had to learn the differences between AL (Assisted Living) and IL (Independent Living). AL is typically more ambultory and not as mobile as IL residents - so no tennis, karate, etc. photos. Text, for the most part, was provided by the client. The designs were presented and perfected after working closely with the client, Patti Luccioni - Community Relations Coordinator and Sharon Dominik - Marketing Director.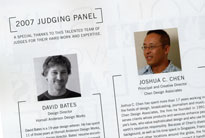 2 of the 7 judges from top USA design and ad agencies.

We also designed a web page addition to the existing website and a number of local ads which was not included in the award submission.

121207



{Press}

Press:

• Daily Republic
821kb

• Fairfield-Suisun Chamber of Commerce
168kb

• Vacaville Reporter
821kb