Back to Awards main page
GDS Wins National Graphic Design Awards


Renovo Communities (Del Valle Homes) Sidonia & Manzanita winning logo designs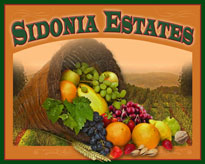 Larger view
Logo for Hanford, CA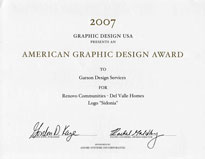 Larger View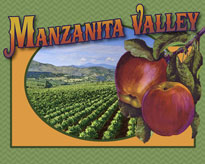 Larger view
Logo for Tulare, CA
Tulare County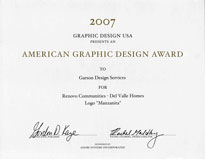 Larger view
Sidonia & Manzanita winning logo designs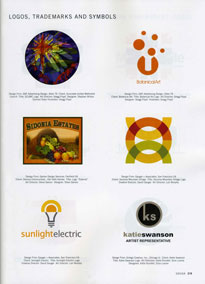 Winning entry Sidonia Estates award page in 2007 GDUSA Design Annual.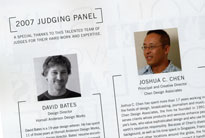 2 of the 7 judges from top USA design and ad agencies.


4868DVH

Awarding Organization: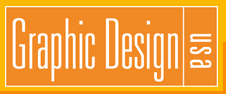 www.gdusa.com
Other GDS awards from same 2007 competition:
• Gaw Van Male Advertising
• Quail Creek Corporate ID
• Renovo Communities - Sidonia and Manzanita developments
• TLW Public Relations
---
The Award



Design Firm: Garson Design Services, Fairfield CA
Client: Renovo Communities - Jessica Rosenthal & Hilda Aguirre
Title: Renovo Communities - Del Valle Homes - Logo "Sidonia" "Manzanita"
Art Director: Steve Garson
Designer: Steve Garson

Winners receive an embossed Certificate of Excellence and become eligible for reproduction in the Graphic Design USA's Awards Annual, seen by over 100,000 colleagues and clients each year. The 2007 Design Annual, with the winning entries, will come out January 2008.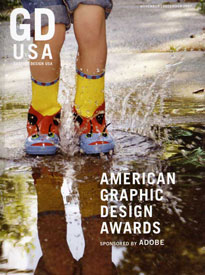 Larger view
Cover for the 2007 Design Annual with 5 of our awards

CASE STUDY

Need
Logo designs for new housing developments in the Central Valley, CA.

Solution
First thing was to research the areas of

Hanford, CA

for the Sidonia logo and Tulare, CA for the Manzanita Valley logo. We wanted to do a fruit crate label style of art so finding out the main crops of the regions was needed.

The Manzanita logo started out as Manzana or the spanish word for apple and then changed to Manzanita so it wouldn;'t be confused with the Manzanar Relocation Camp in Owens Valley.

Finding photos and taking different photos eventually required heavy Photoshop image manipulation to get the final successful results. Many different fonts were tested until client approval.




Press:

• Daily Republic
821kb

• Fairfield-Suisun Chamber of Commerce
168kb

• Vacaville Reporter
821kb